Planning to sell a used car? You'll need to get a valid roadworthy certificate to meet VicRoads guidelines. At EVS, we can perform a through inspection of the vehicle and provide you with a detailed rundown of all the actions required to get a Certificate of Roadworthiness.
A Certificate shows that the vehicle is safe enough to be driven on public roads across Victoria. This service will involve a thorough check of the:
Wheels and Tyres
Brakes, steering and suspension
Seats, seatbelts and safety
Reflectors and lights
Windscreens, widows and wipers
Overall vehicle structure
Safety items on the engine, body or chassis

Our mechanics can issue a roadworthy certificate for Audi, Volkswagen, BMW, Citroen, Skoda, Jaguar, Porsche and many other prestige European vehicles. At our modern workshop, we use the latest equipment to carefully assess your vehicle from every angle, making sure it is safe and meets all the necessary RWC guidelines.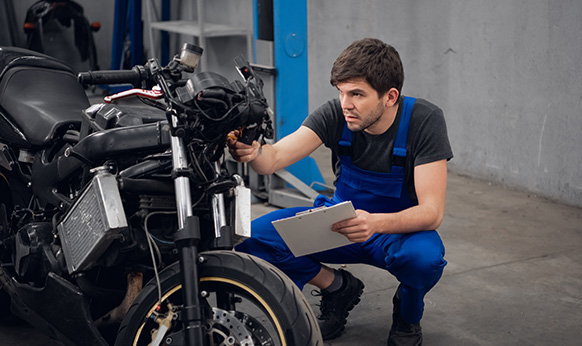 Motorcycle Roadworthy Inspection and Certificate
Before certain motorcycles are sold or re-registered, you must get a valid Certificate or Roadworthiness. As a licensed vehicle tester, we can conduct a comprehensive roadworthy check for a wide range of motorbike brands, makes and models.
If we determine that the motorcycle is safe for use on public roads, we can then issue a RWC. While the cost for this service will depend on the age and condition of the bike, we consistently offer some of the best prices for a motorbike roadworthy certificate in Melbourne.
Book in a time now and make sure your motorcycle is roadworthy. Melbourne customers are welcome to stop by our North Melbourne workshop or contact us directly on 03 9329 7559.